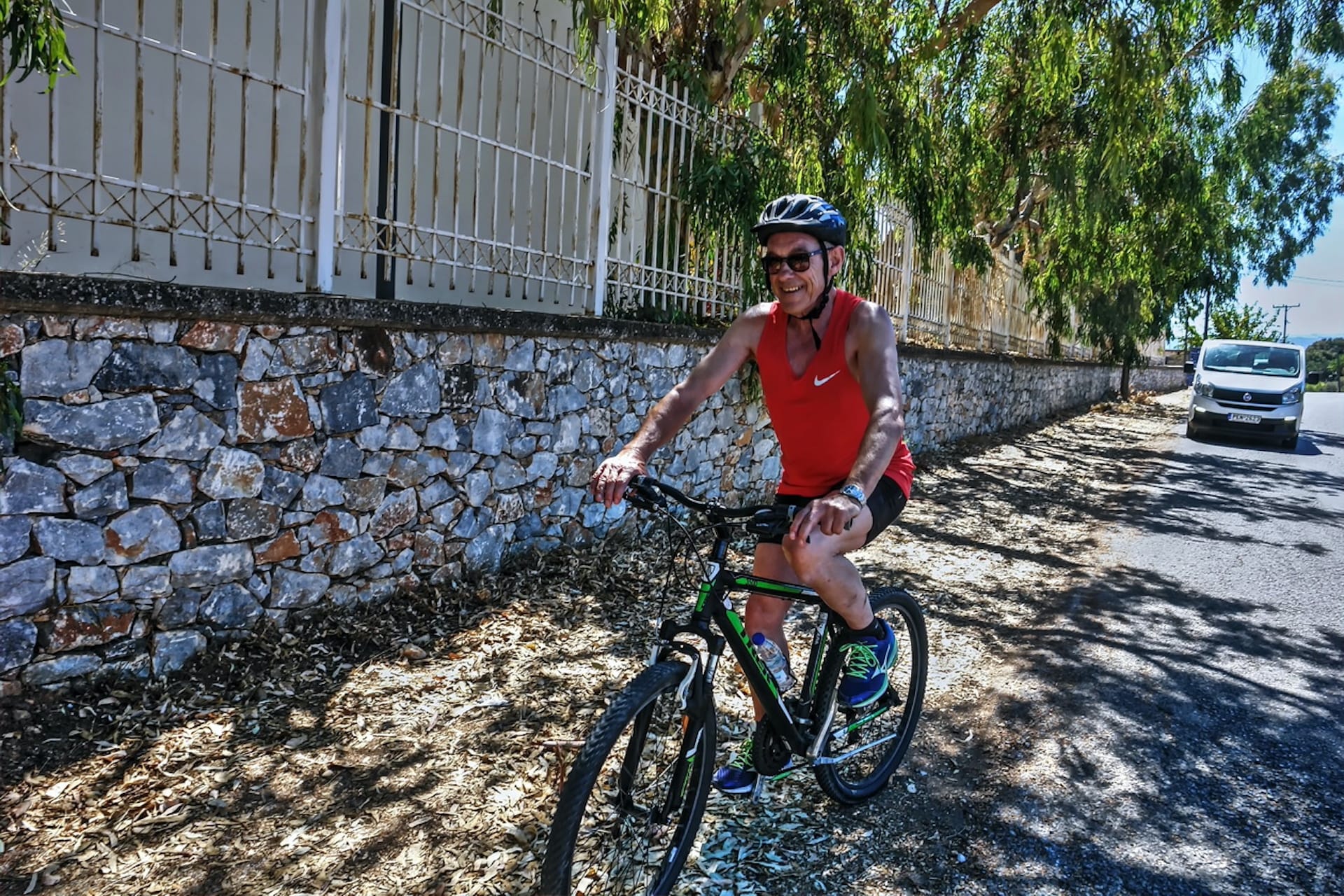 Booking SKU DT03
Included in the price: Guide, insurance, bike hire and equipment, support vehicle, lunch.
5 Stars tour
Description
This is our new and exciting cycling tour, designed especially for lovers of nature who want to discover the inner beauty of Crete! In the morning we pick you up by bus from your hotel and then continue our bus ride to the Monastery of Vidiani, located at the foot of the Louloudaki Mountain.  Here you will have a chance to explore the monastery, which was founded in the mid 19th century and is still in use by the monks today. It also houses a natural history museum which includes a fascinating exhibition of the wild birds of Crete.  From here we set off on our bikes to cycle across the beautiful Lassithi Plateau and enjoy the breathtaking views and stunning Cretan countryside. Lassithi is a unique patchwork of green and yellow fields hemmed in by the Diktean Mountains, each patchwork area is irrigated by its own windmill. The picturesque white windmills work to water the fertile plain which covers an area of approximately 25,000 sq km. We will cycle through traditional villages and will make a stop at the famous Kronium cave . Later we will have a picnic lunch in the Cretan countryside before getting back on the bikes and cycling till we are to the finishing place. Then we hop onto the bus and drive down to the village of Mochos. The first sight of the village nestling in a hollow with the imposing mountains as a backdrop is breathtakingly beautiful. Continuing our bus ride we will take you back to your hotel. An amazing way to explore the unique and beautiful island of Crete.
If at any stage of the day you wish to hop onto the bus for a rest, no problem. We just put the bikes on the trailer and continue.
 We recommend you bring swimming costumes, money (not credit cards) for coffee breaks and the extras and wear comfortable shoes and clothing.
 Included in the price: Guide, insurance, bike hire and equipment, support vehicle, lunch.
Please note that all visits are optional
Daily Program
Full Day Tour including picnic lunch
We recommend:
Comfortable Clothes / Shoes
Swimming costumes
In Springtime – Autumn warm Sweater, Jacket, long Pants
Money for Coffee Break / Extra Drinks
Daily – Program:
08:00 Hour Departure from the hotels. Pickup of our guests
10:00 Hour Arrive at the famous monastery of Vidiani in Lassithi Plateau
10:30 Hour Tour starts
11:30 Hour Coffee break in one of the local coffee shops in Greek called
Cafenion.
12:10 Hour Back to the nature – Cycle starts again. Visit a folclore museum.
12:40 Hour We continue our cycling tour through Tzermiado.
13:00 Hour Lunch in the nature.
14:00 Hour We will be at Kronium cave
15:30 Hour We will be at a local Taverna – coffee.
16:30 Hour Guests will be collected and take them back to their hotels.
The time data provides some guidance, shifts of even 1 hour are possible.
Tour length on bike: 30 km / 27 km flat and downhill incl.
Price: € 59.00 Adults / Children 6 – 12 Years 50% discount. 0-6 years free of charge on a baby sit adjusted in one of parent's bike.